Introduction
Kitchen remodelling can be an expensive and time-consuming process, but with a little planning and creativity, you can create the kitchen of your dreams. These kitchen design ideas will help you get started on the right track.
Here at Maxwell Interiors we are experts in Kitchen design, with over 25 years of experience in high-end design and build. We're known in Hampshire for our attention to detail and for using modern German kitchen brands.
By using our design team we'll make sure the 'dream' kitchen doesn't become the 'nightmare' kitchen!
Blog index
Maximising space in your kitchen
Traditional vs contemporary kitchens
Light or dark kitchen styles
Kitchen worktops
Adding a kitchen island
Kitchen sink and tap options
Kitchen handle options
Kitchen storage
Kitchen flooring
Kitchen lightning
Kitchen backsplash
Other details for your new kitchen
Our Kitchen Design Process
Conclusion
Maximising space in your kitchen
One of the most important things to consider when designing your kitchen is how you can make the most of the space. Consider the space you want it to be – practical for cooking or a social space to have friends and family over?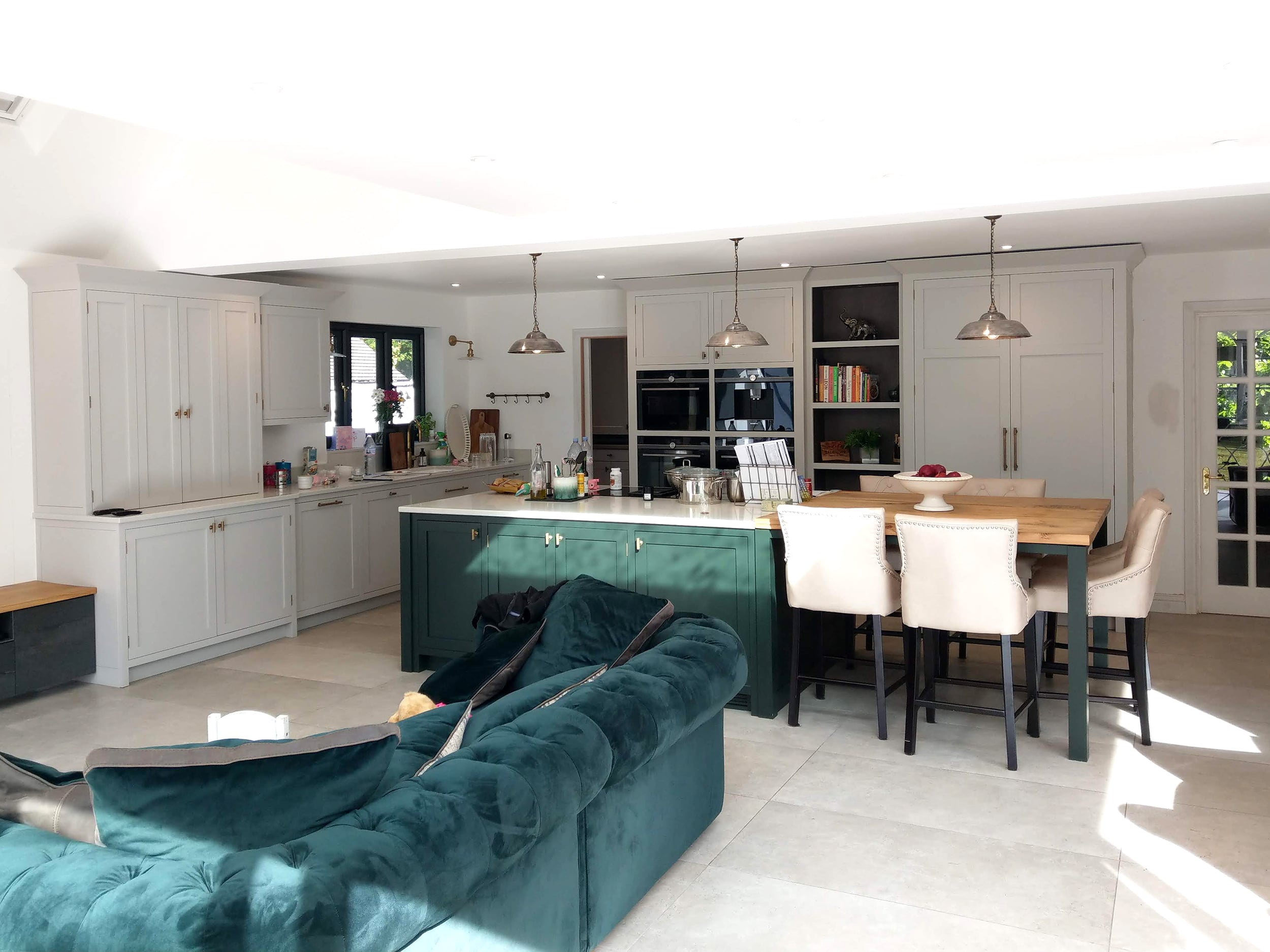 Here are a few tips for maximising space in your kitchen:
Think about what you want to include in your kitchen – do you need a dining table or island?
Use a Kitchen Island – A Kitchen Island can be a great way to maximise space in your kitchen. Not only does it provide extra counter space, it can become a friendly space to share time with friends or family. A peninsula arrangement can also be an alternative.
Incorporate storage into your design – consider using drawers instead of cupboards, or incorporating a spice rack.
Use wall units and shelving – this will free up space on the floor and provide extra storage.
Consider seating in the space – an island can provide extra seating or a place to eat for breakfast or dinner.
Think about the main cooking area – The main cooking area should be separate from the main traffic flow in the kitchen, to avoid accidents and make cooking easier. The cooking area should be designed so that you have easy access to all of the appliances and tools you need, as well as plenty of surface space.
We'd recommend the oven should be in a position in the kitchen, ideally with some worktop space close to hand – also having ovens at 'eye level' will make it easier to access
We'll spend a lot of time considering the work surface preparation areas to make sure they aren't compromised by the design. If you're planning on doing any baking or cooking in your kitchen, it's important to have a designated space for those activities that won't be compromised by grease, spills, or heat damage.
It's all in the planning – let 3D visualisation inform our decisions with you
One of the most important tasks to do when planning your kitchen is to create a 3D visualisation. This will help you to plan the space and design of your kitchen, as well as giving you an idea of what it will look like. At Maxwell Interiors we use the latest technology to provide accurate 3D Kitchen visualisation from many angles.
Check out a preview link of a customers kitchen visualisation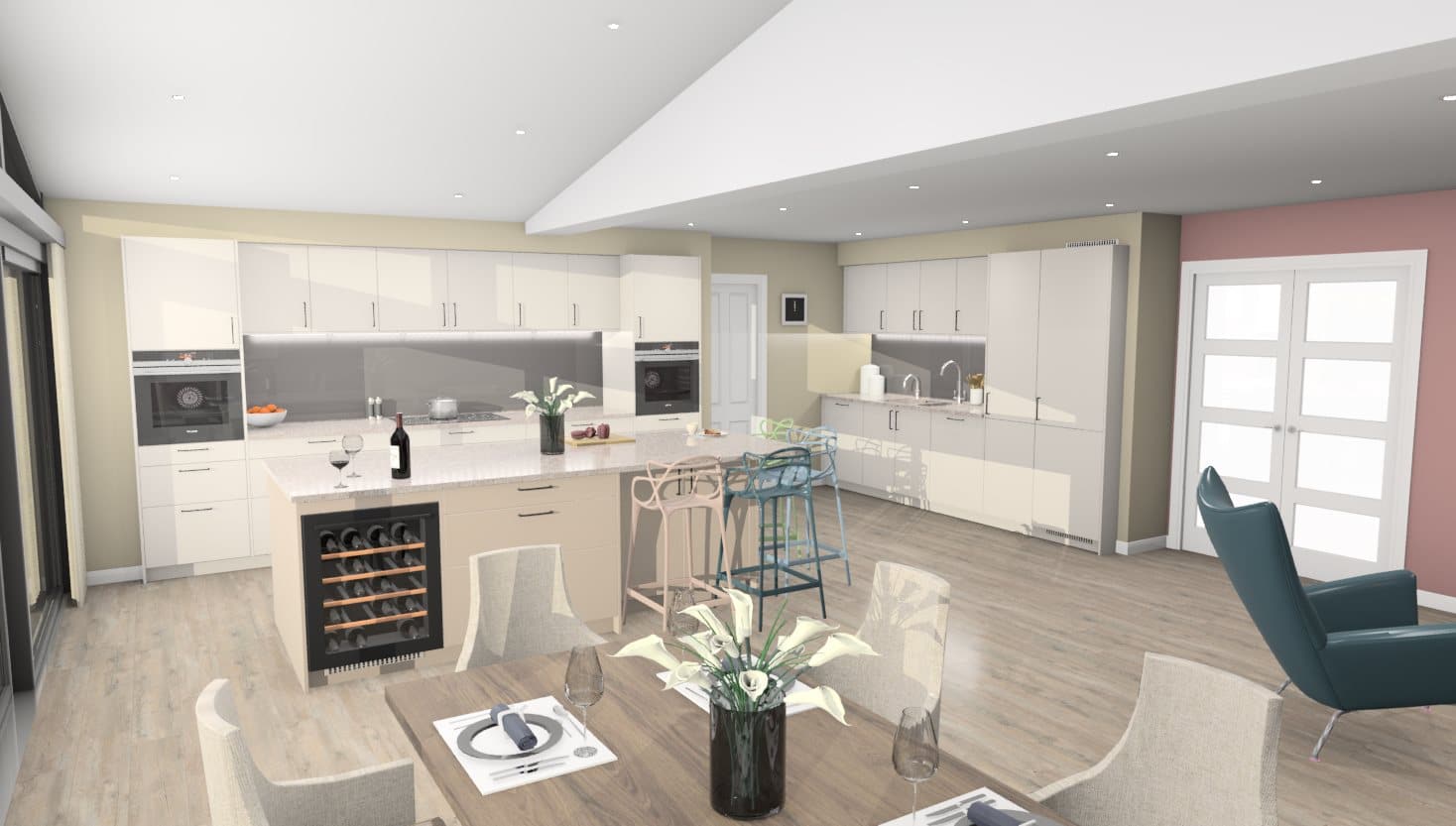 Traditional vs contemporary kitchens
When it comes to kitchen design, there are three main style directions: traditional, classic and contemporary. Traditional kitchens are usually more ornate in the design with decorate features and detailing, typical of what you would find in farmhouses. Classic kitchens tend to be the shaker style which will always stand the test of time and will never date. The contemporary direction usually is identified as a 'slab' or flat fronted door style, with clean lines and sometimes a mix of finishes.
Traditional kitchens
Traditional kitchens usually have a more classic look, often in-frame with butt hinges on the doors, decorative features and wooden cabinets and a traditional stove. They often incorporate features such as a Kitchen Island, a Kitchen Pantry, or an Aga. Contemporary kitchens usually have a more modern look, with sleek lines and minimalistic designs, and the latest kitchen technology. They often incorporate features such as stainless steel appliances and an induction hob.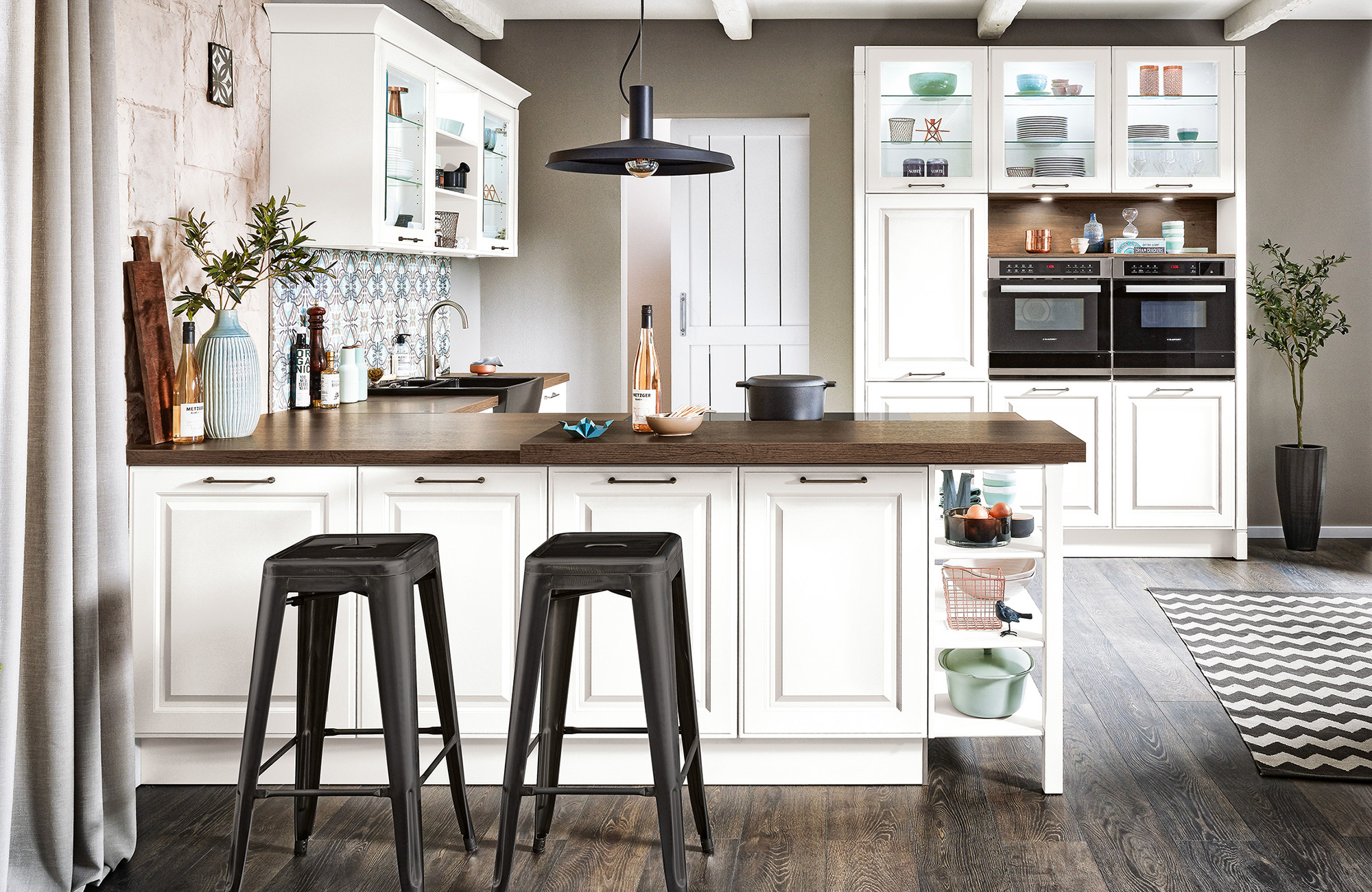 Shaker style
The Shaker style kitchen is a popular choice for those who want a traditional kitchen with a modern twist. This style of kitchen is based on the designs of the Shaker community, who were known for their simple and functional designs. The Shaker style kitchen typically features wooden cabinets, a Kitchen Island, and a traditional stove.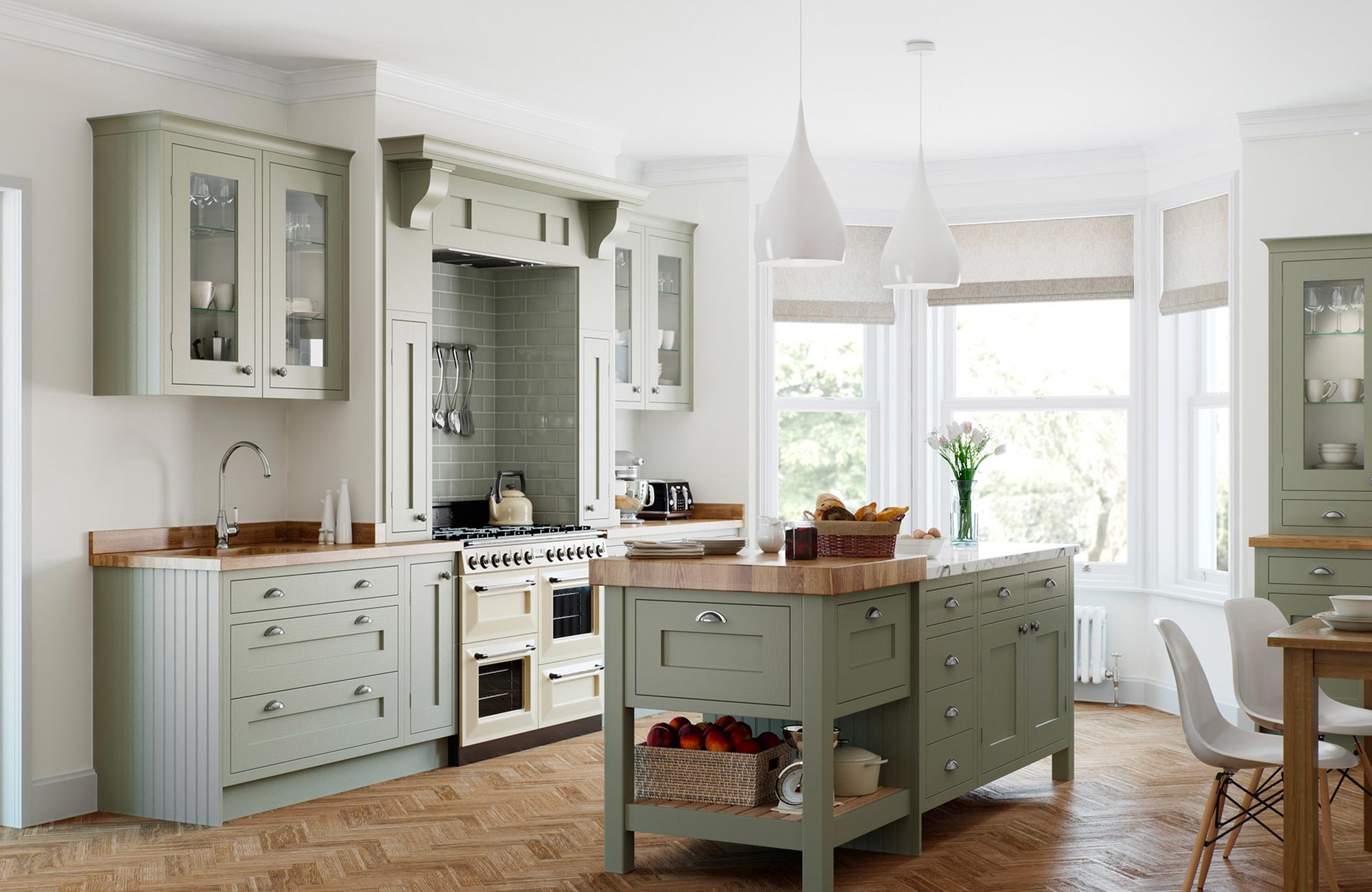 Modern Slab or flat-fronted doors
Modern 'Slab' or flat fronted doors are made from a single piece of material, usually MFC or MDF. More costly options are available in wood or veneered finish. These style doors can come in Matt or Gloss finish and are very durable to stand up to the demands of family life in the kitchen. For any wood feature doors normally it will be in a laminate finish as wood finishes can significantly increase the cost and actually the laminate finishes are easy to maintain and look after.
The type of door you choose will depend on the look you want for your kitchen.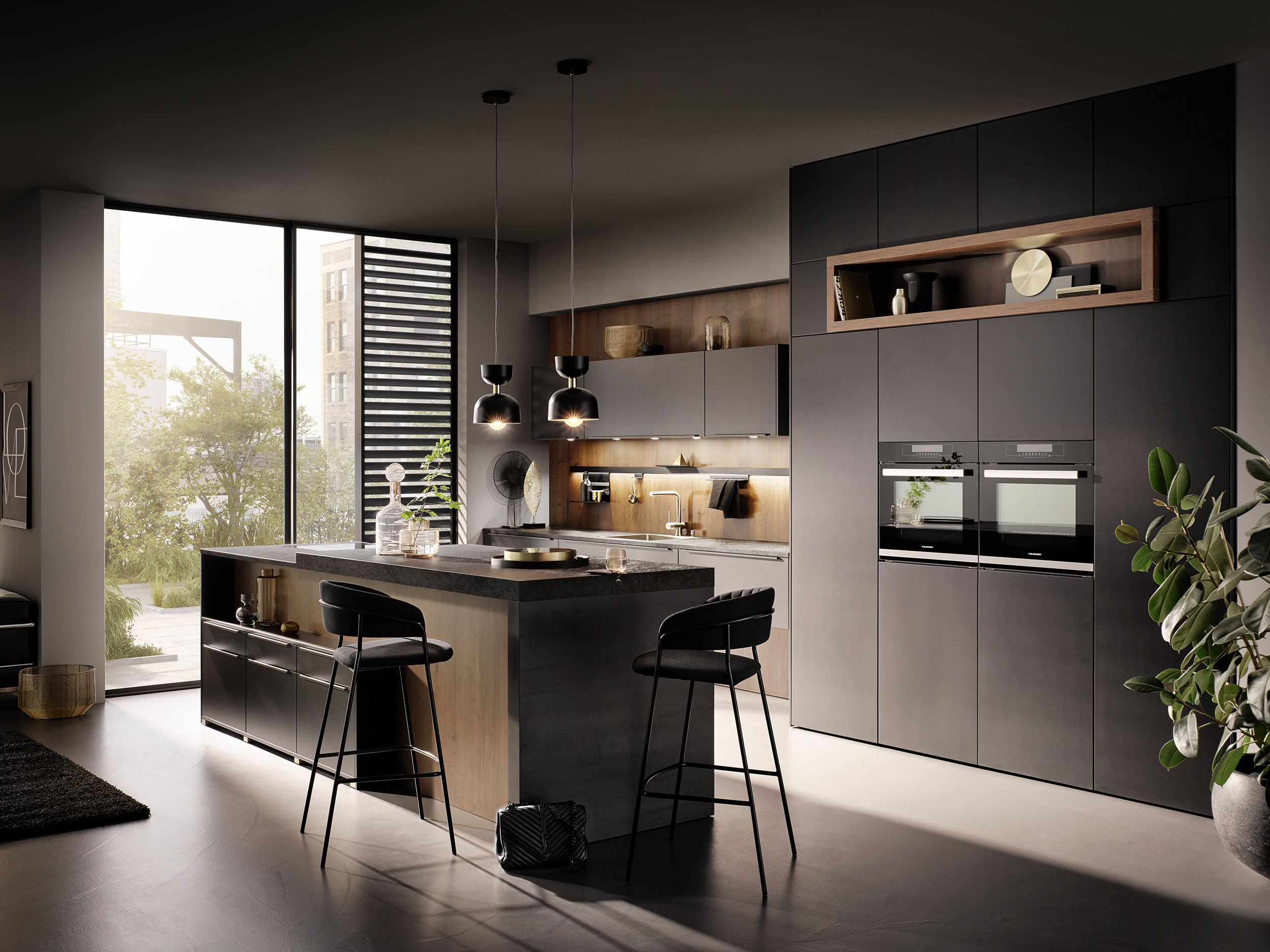 Handles or 'True' Handleless
Handles are the traditional way of opening a door, and they are typically made from metal or wood. 'True' handleless doors have no visible handles. A recessed channel at the top or side of the door fascias allows finger space to open doors or drawers.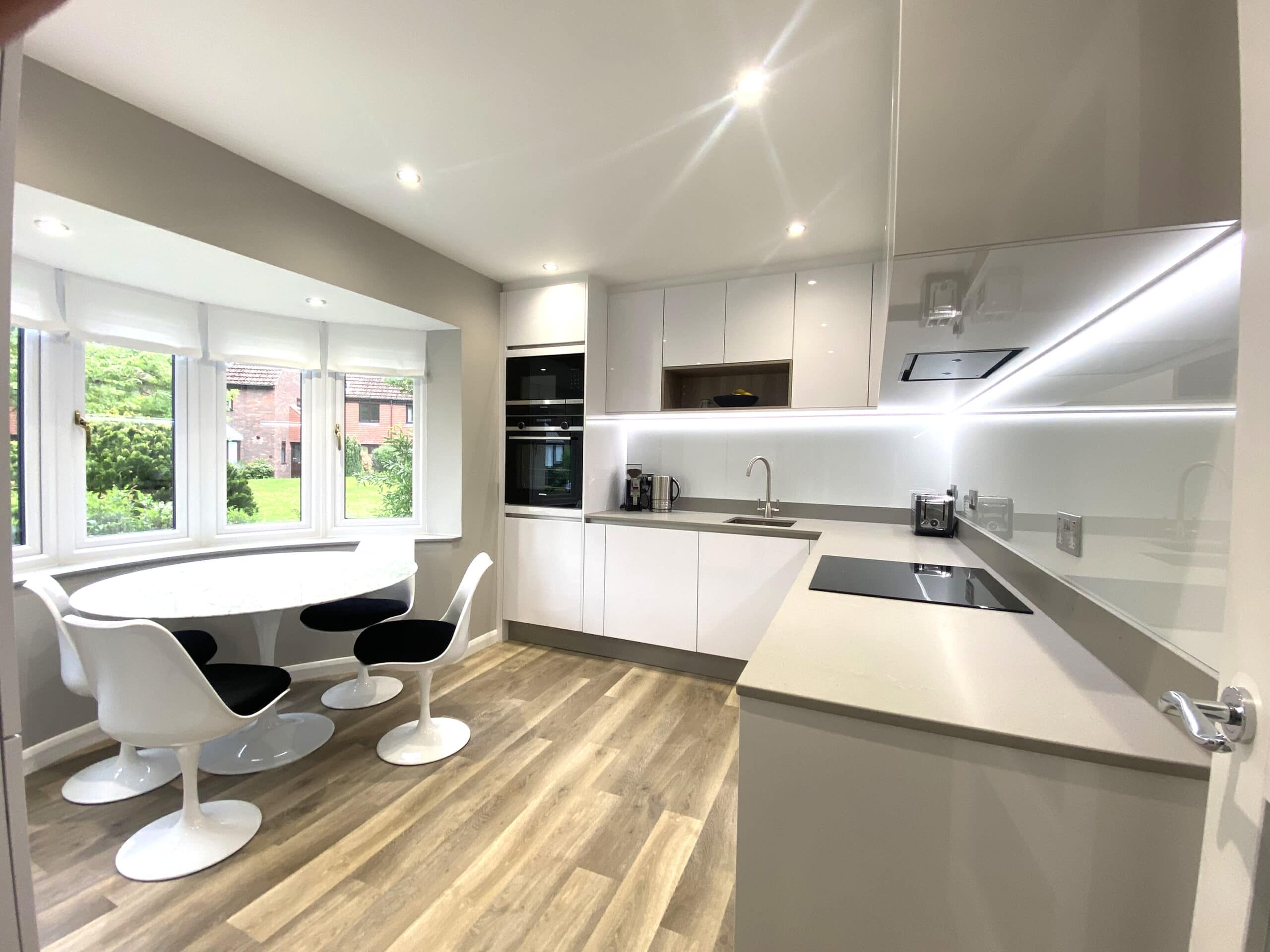 Statement handles
Statement handles are a great way to add personality to your kitchen. They come in a variety of shapes and sizes, and they can be made from different types of materials, including metal, wood, and glass.
Light or dark kitchen styles
The colour of your kitchen can make a huge difference in the look and feel of your space. We have a large selection of kitchen styles in modern, urban, luxury, family, nordic and country. Our design team will help you find the right colour combination that works best for your home.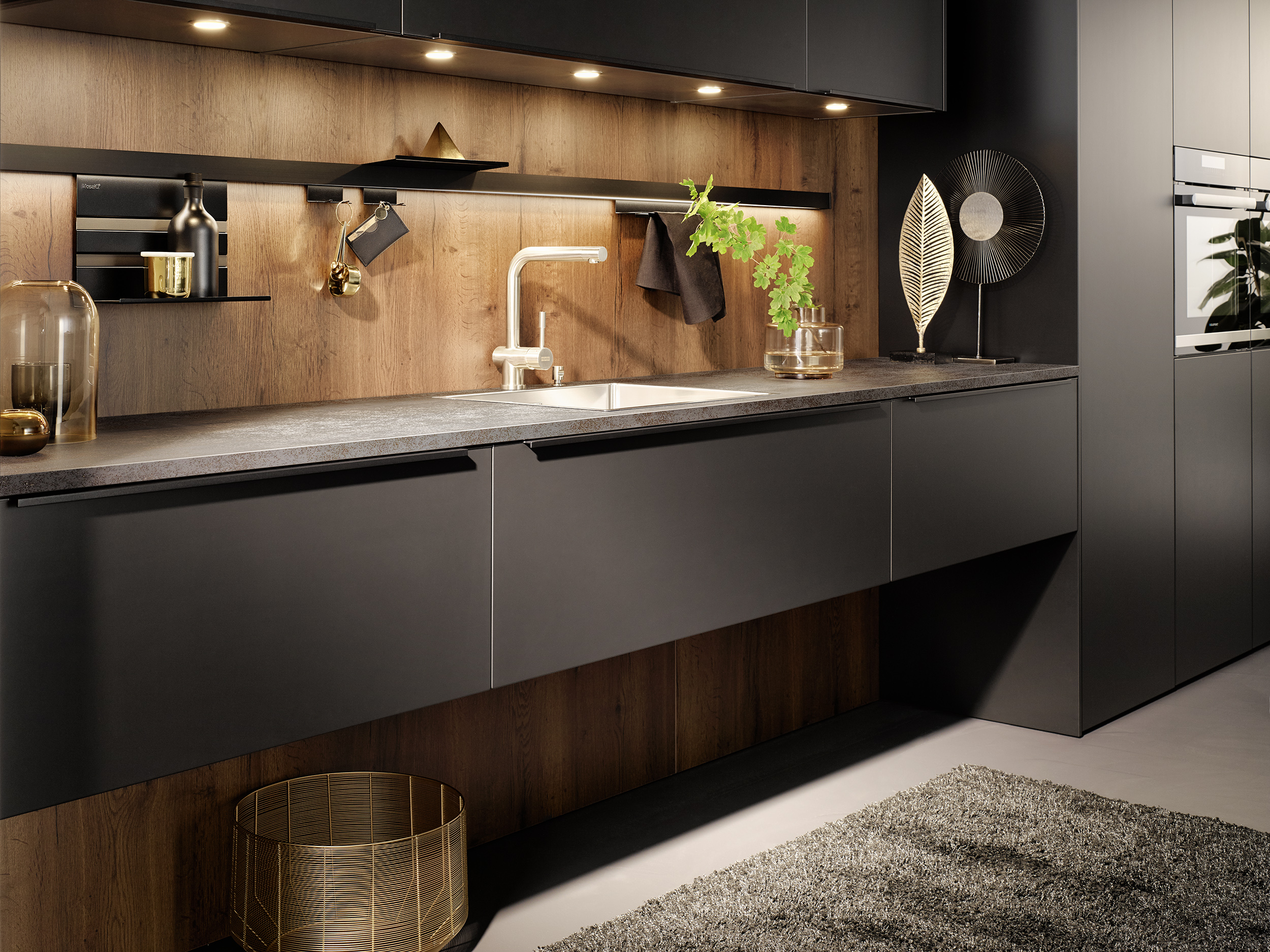 Our design team are always in touch with the latest colour trends to help you find the perfect look for your new kitchen. Neutral or pastel colours are popular choices for kitchen design, as they can create a light and airy feel. Dark colours, such as anthracite or navy blue can make a space feel more dramatic and luxurious.
Texture combinations can add interest to your kitchen design. We recommend using a range of textures, such as wood, metal, glass, and marble, to create a visually interesting space. Through the design phase we will pull together palettes of colours to review with you, which we'll consider for doors, worktops, splashbacks, handles, flooring and walls.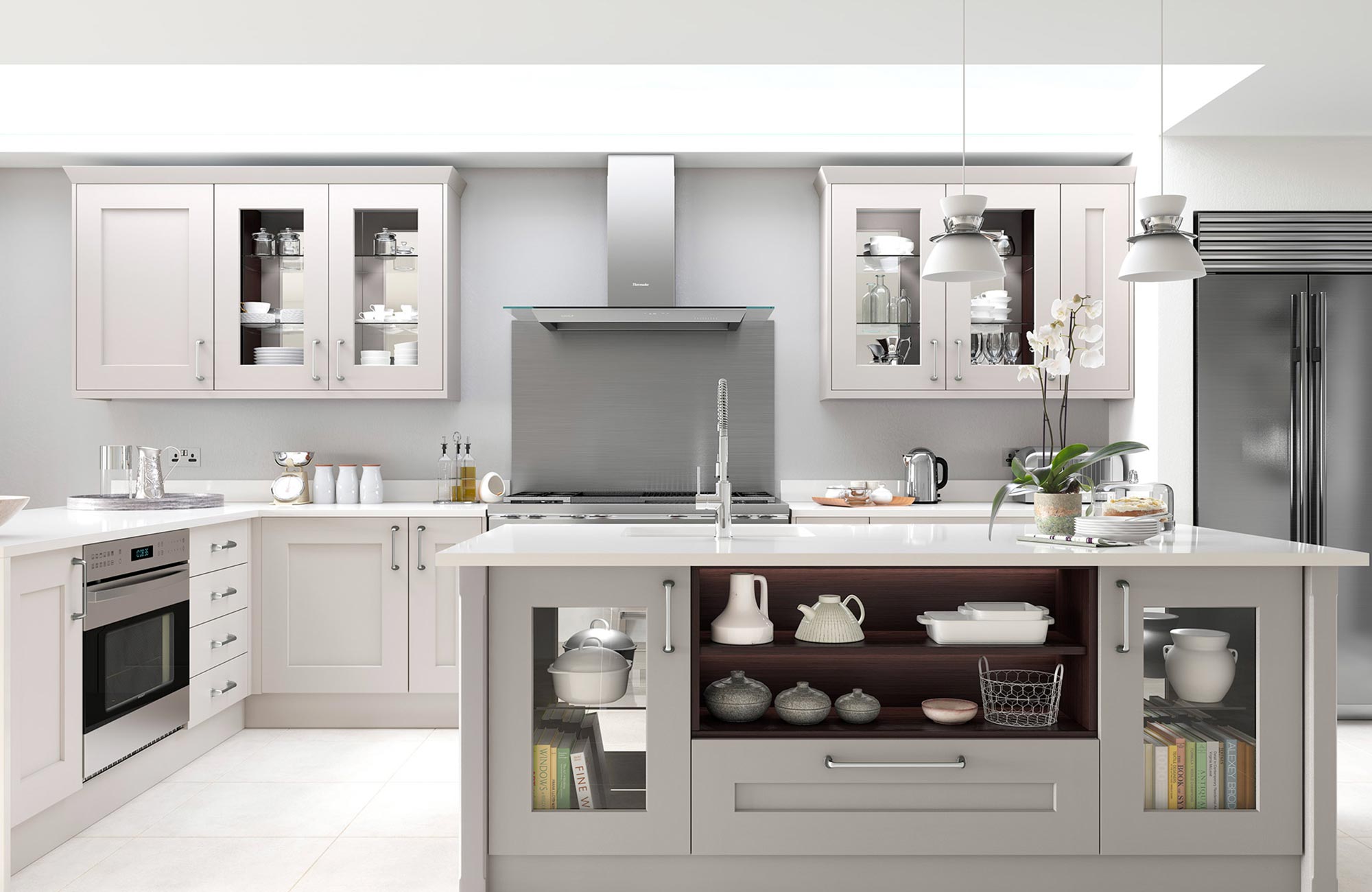 Kitchen worktops – solid surface options
Kitchen worktops come in a variety of materials, including wood, granite, marble,quartz and corian. Quartz worktops are a popular choice for kitchen design, as they come in an assortment of colours and finishes. They are very durable and the finish tends to be consistent.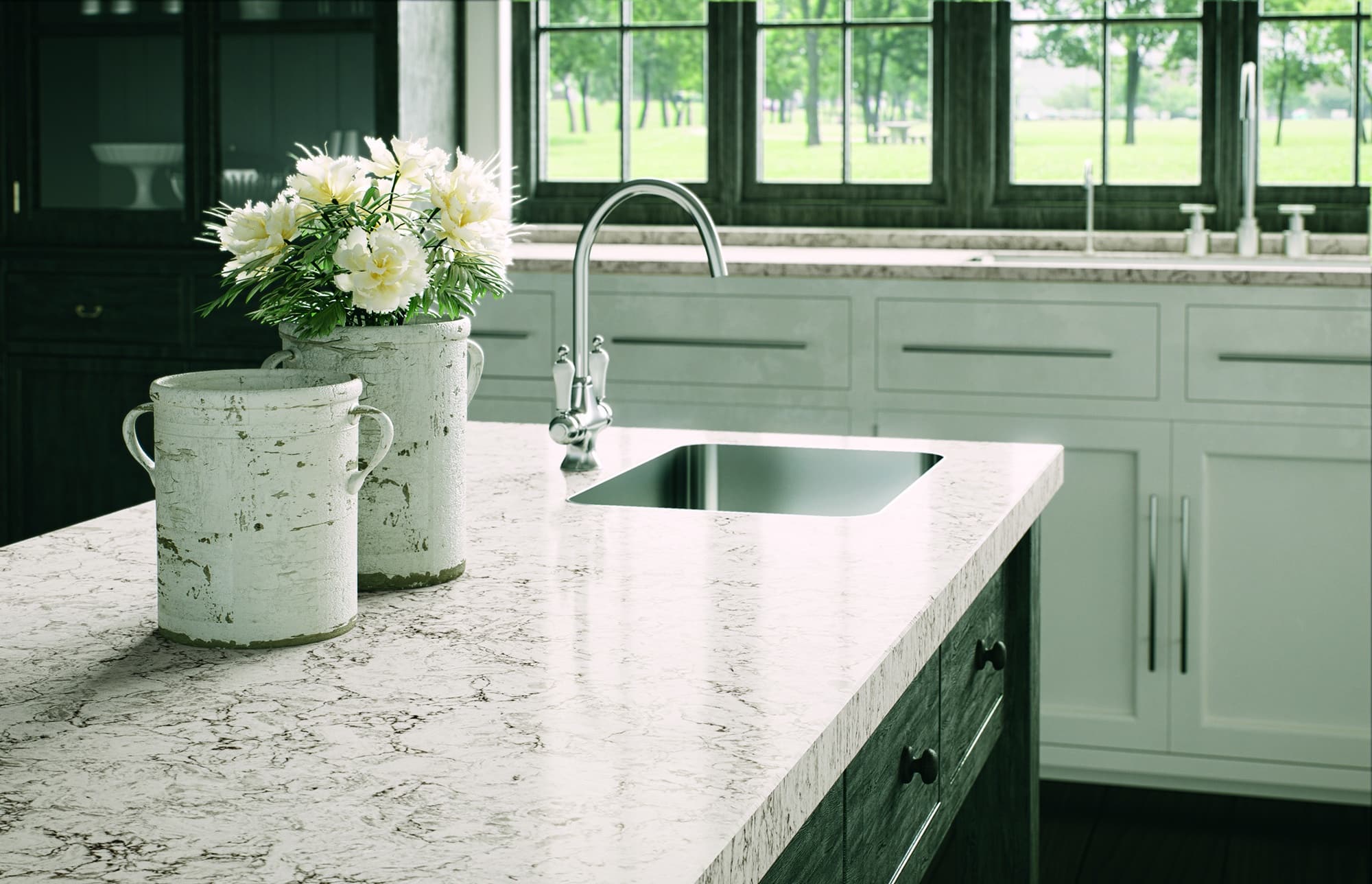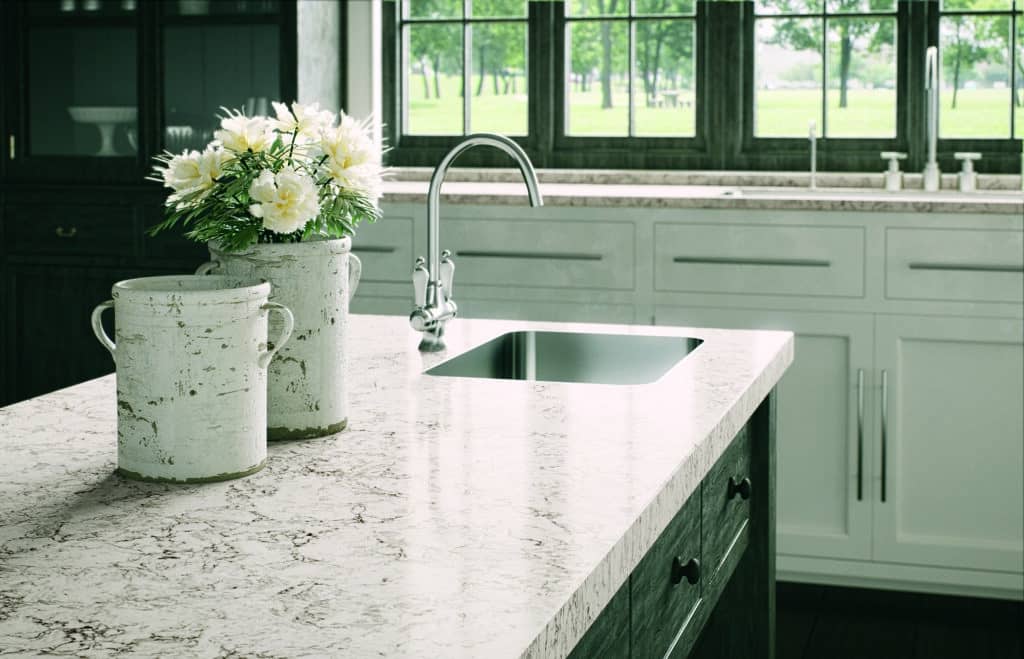 When you select the best material for your kitchen, it will ensure durability and beauty. We want customers to feel that they've a kitchen renovation 10 to 15 years ago and it still looks as good today!
The brands we use for kitchen worktops in quartz are, Caesarstone, Silestone, Radianz. Quartz stone is less likely to scratch or chip, making it a good choice for areas that see a lot of activity. If you are after something more natural then we'd recommend Granite, however we would always recommend going to see full slabs in the stone yard as there can be a lot of variation which may not be apparent on a sample. Corian is a man made material that can be used in a kitchen if the client wants seamless joints or wanting to create something with a lot of different shaping. This is a softer material so more care required but it can be repaired.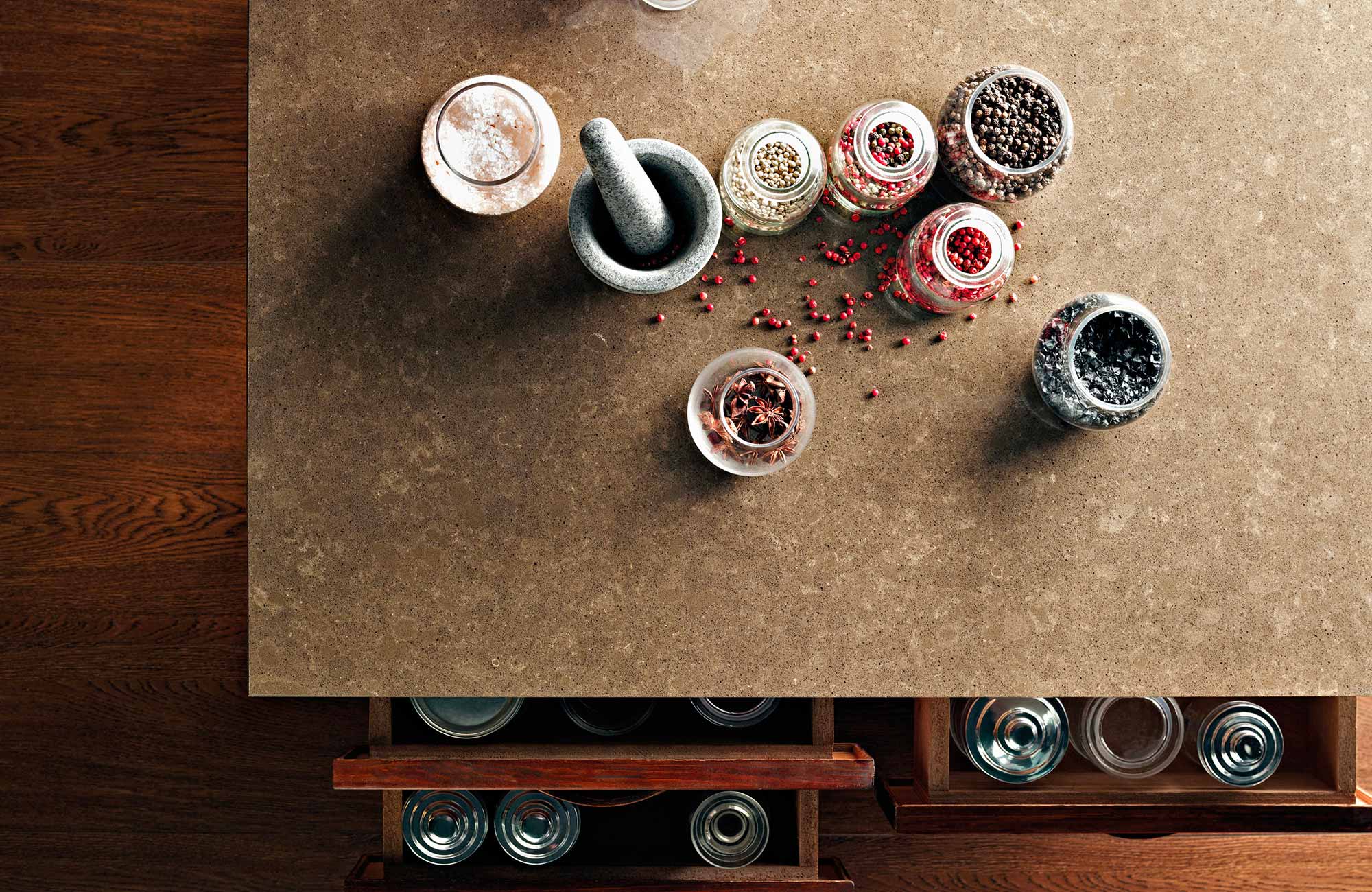 The difference in cost between laminate and stone ie. Quartz or Granite
At a material level the difference in cost between laminate and stone ie. (quartz or granite) is significant, however, it is much quicker to install stone worktops. You then can also have matching upstands, window sills, splashback which gives a much better and more durable finish and will stand the test of time better. By the time the labour cost is added to fitting laminate worktops and then working out what to do with upstands, splashbacks and possibly window sills there then won't be as much difference in cost as maybe expected.
Adding a kitchen island
A kitchen island is a great way to add extra storage and preparation space to your kitchen. Kitchen islands can also be used as a dining table or breakfast bar. But if you have a small kitchen, a peninsular style design may work better, we can help you with that decision by assessing the size of your kitchen.
Islands can also incorporate a hob, sink or other appliances, and they can be a great way to create a social space in your kitchen for the family to meet around or to have guests gather for drinks. It is a nice way to bridge between the functional kitchen and dining space.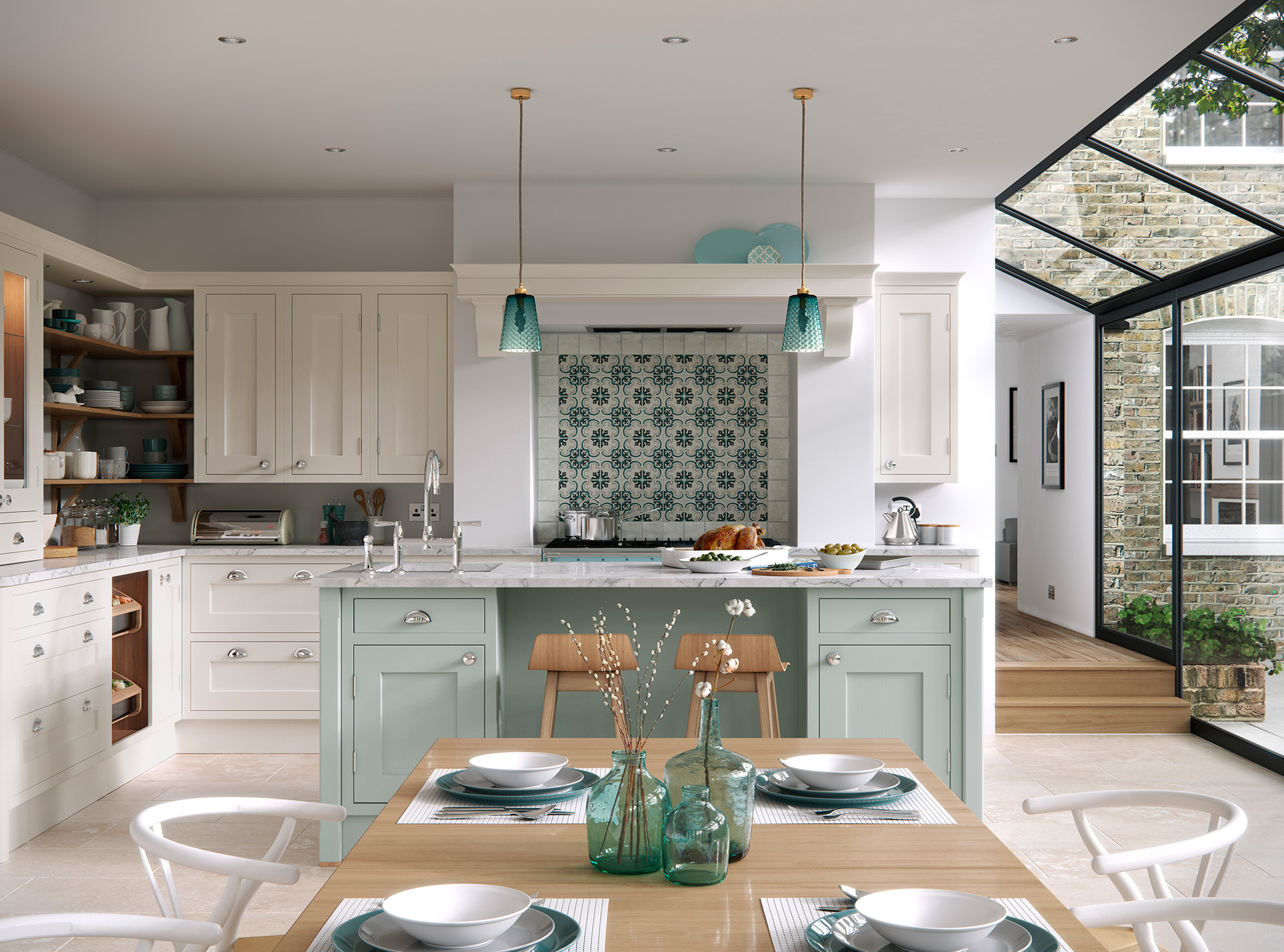 Kitchen sink and tap options
Kitchen sinks come in an assortment of materials, including stainless steel, granite, ceramic and corian. We recommend choosing a sink that is durable and easy to clean. Stainless steel sinks are a good choice as they are robust to the daily needs for busy families.
At Maxwell Interiors, we have another special option for our customers – Quooker taps. A Quooker tap is a boiling water tap that can also provide instant hot, cold or sparkling water on demand from one tap. It's perfect for making tea, coffee, or preparing pasta and vegetables. The Quooker tap comes in a range of styles and finishes to match your kitchen design.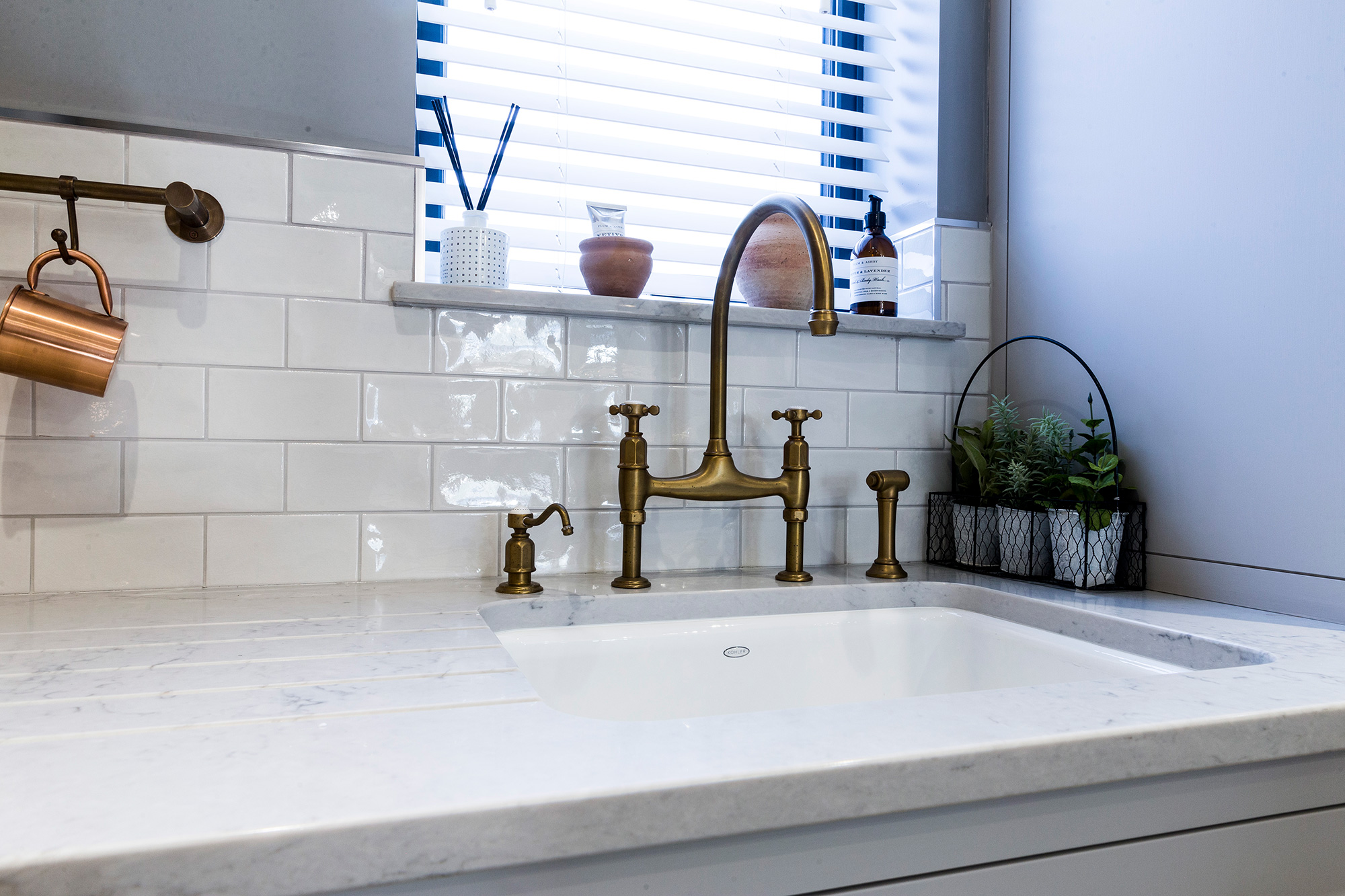 Kitchen handle options
Handles on kitchen cabinets play an important role in the overall design of the space. They can be used to add visual interest or to match the style of your kitchen. Traditional or country-style kitchens often would have had wooden cabinet handles. These days however it is more common to have metal handles usually in a chrome or brushed steel finish while modern kitchens often use sleek metal handles.
We have a huge range in our Fleet showroom, and many of our clients like to test them out. Some customers have arthritis, so it's critical they feel the handles before we put them in the kitchen design.
No handles on the doors or drawer fronts is a handleless kitchen, giving it a sleek and modern appearance. True Handleless is the rail system at the top of the door, not J profile scoop at the top.
Another alternative is a Touch latch door, which you simply touch to open. We would only recommend these on doors that aren't used all that often.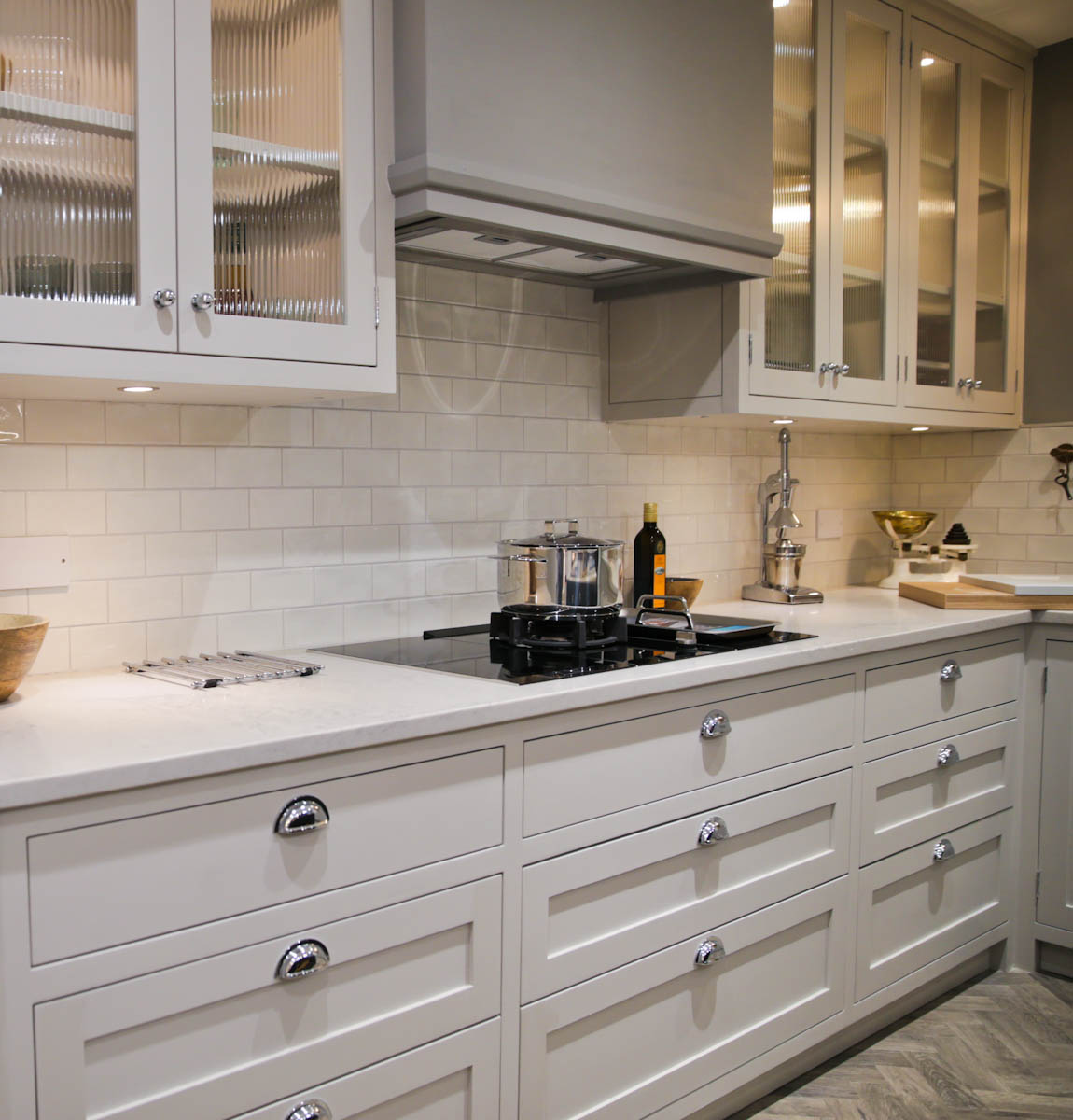 Kitchen storage
Kitchen storage is an important part of any kitchen design. The right storage solutions can help you to organise your kitchen and make it more efficient by making access to kitchen items easier.
When planning your kitchen, think about the types of items that you will need to store. Kitchen cabinets come in different shapes and sizes, but don't worry, our designers can help here with your selection.
It's also essential for keeping your kitchen spacious and maximising the space. By utilising storage containers and cabinets, you can keep your countertops clear and your kitchen looking sleek.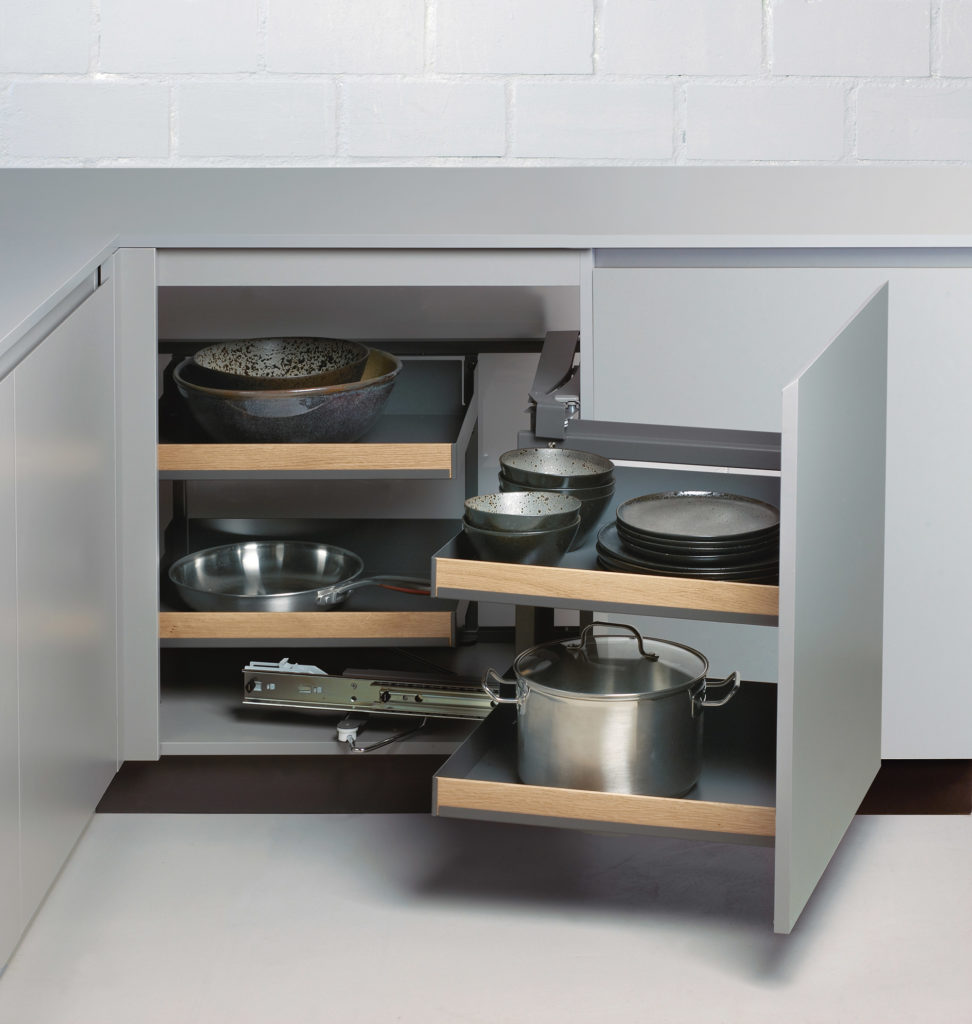 We highly recommend paying attention to the quality of materials used in the kitchen design. We always aim to make your kitchen stand the test of time both in terms of function and design by using high-quality materials. Many clients desire more drawers than cupboards, which is perfect for access, however, there is a fine balance to be had as drawers can significantly increase the cost.
Another alternative to making the most of space is to utilise corner storage – the LeMans corner system is ideal for corner storage and well worth the money.
We usually recommend that people avoid using the space above the hob and extractor for storage, especially if they have a glass surface hob. The last thing you want is to shatter a hob because you dropped a spice jar!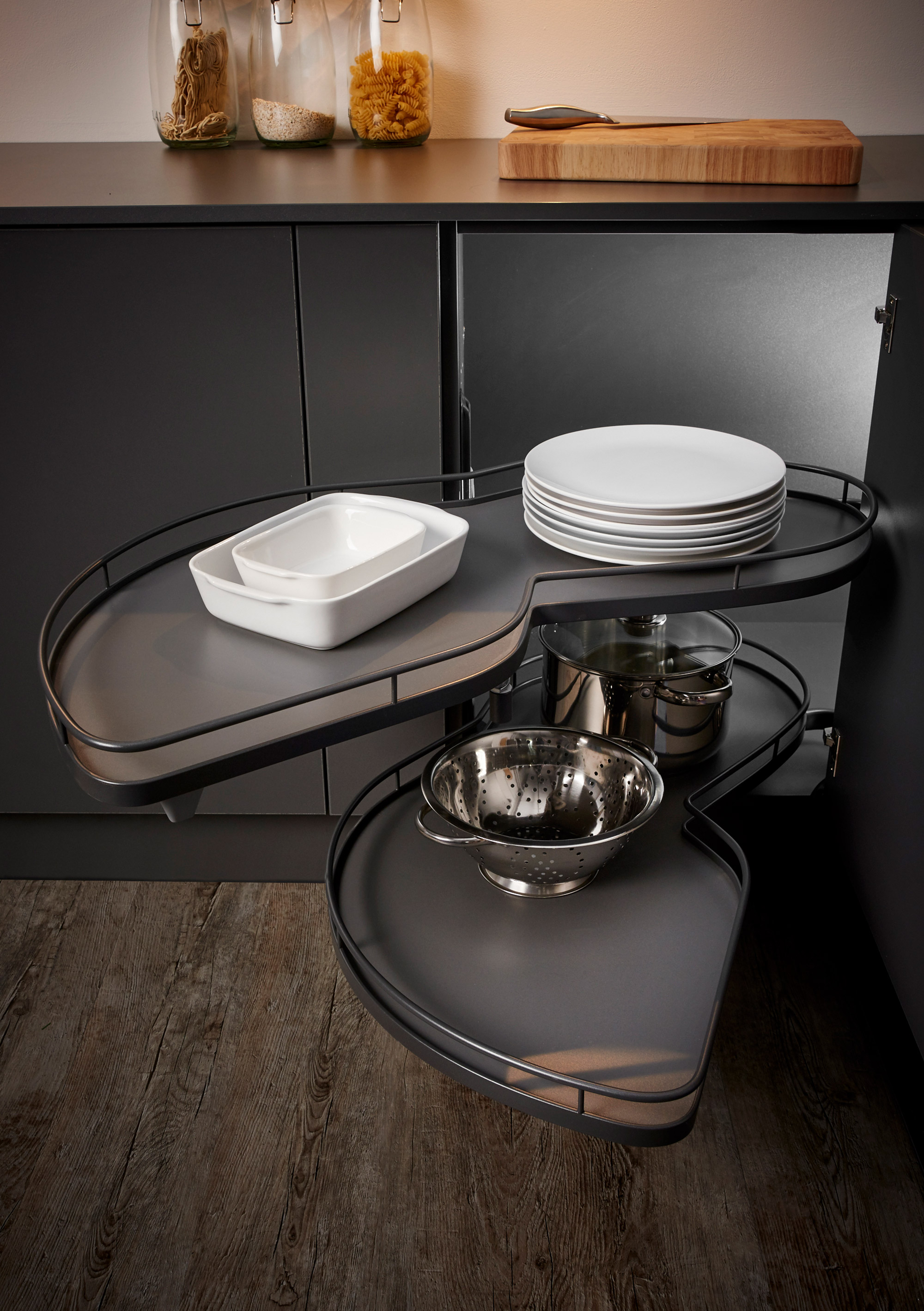 Kitchen flooring
The right flooring can help to create a warm and inviting space, while also being durable and easy to clean.
Kitchen floors come in various materials, luxury vinyl, wood, or porcelain with either a stone or wood effect.
If you don't have underfloor heating and the wood effects are appropriate to the style, Karndean, a luxury vinyl is an excellent option.
If you want to go with underfloor heating, porcelain is an excellent option especially if you opt for large format tiles with rectified edges which means the grout joints can be small and this flooring is then easy to maintain. But don't be tempted to just tile up to the feet of the units to save a few pounds; go wall to wall, if anything ever has to be changed in the kitchen whether it is an appliance or a different kitchen at least the floor is consistent everywhere meaning it can possibly stay as it is and no difficulty getting appliances in or out.
In the kitchen, avoid real or engineered wood. The majority of customers don't want to deal with the upkeep, and that gorgeous new hardwood floor won't feel so new in two years. Kitchen cabinets should also not be put on top of hardwood floors. There is always expansion and contraction with timber.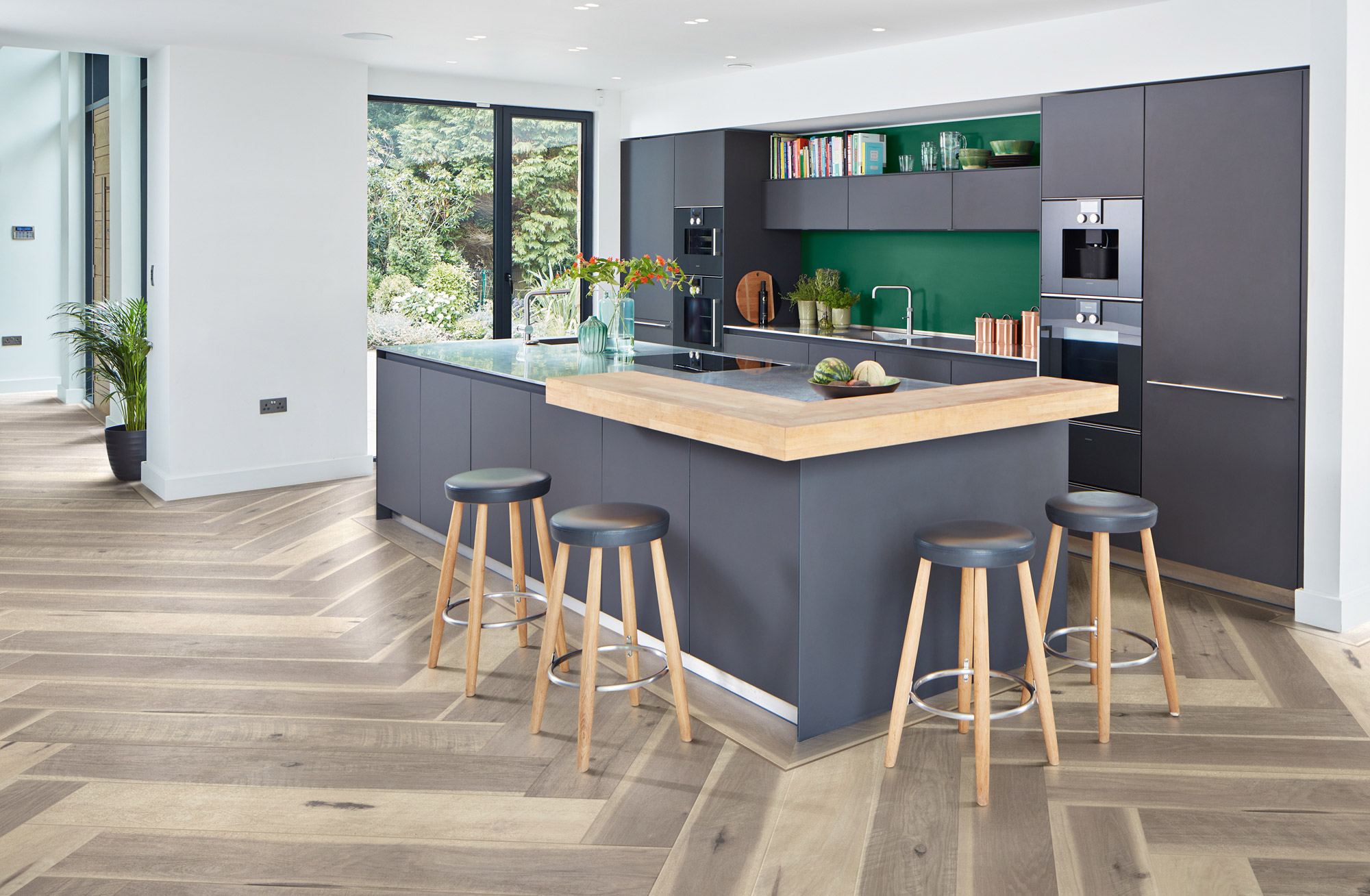 Kitchen lightning
One of our favourites is kitchen lighting. The right lighting can help to make your kitchen feel inviting, while also making it more efficient.
Kitchen lighting can be warm or cold. Warm lighting is typically more inviting and creates a cosier atmosphere, while cold lighting is more efficient and can help to make your kitchen look more modern.
A great way to create mood light is to use LED technology under cabinets. This is a very popular option at the moment and looks amazing, using either LED spots or strips. Another trick is to put them above the cabinets to create a secondary light source.
If you want to go for a more traditional look, Pendant lights are always a good choice for over islands or peninsulas, but the placement of these in the kitchen is critical, so make sure to consult with a professional.
If possible roof lanterns are becoming very popular, as they help to bring natural light into the kitchen and create a more spacious feel.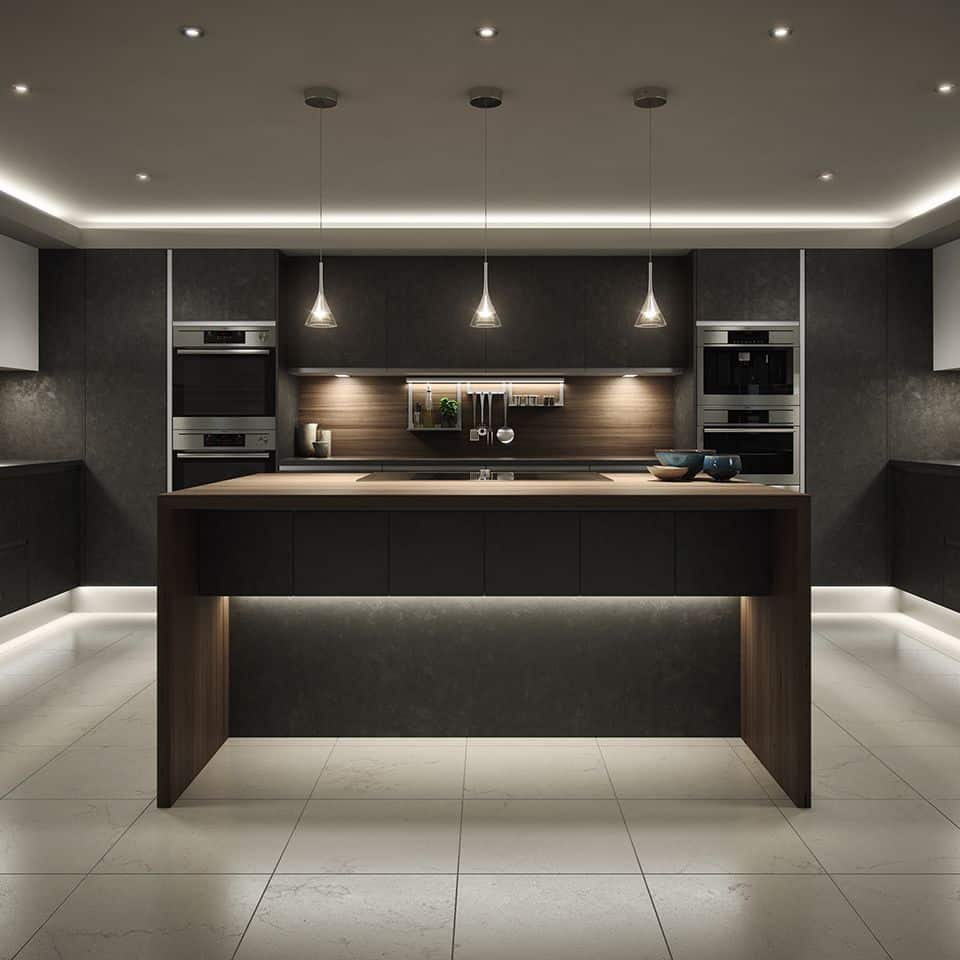 Kitchen backsplash
A kitchen backsplash is a tile or panel that is installed behind a kitchen sink or stove to protect the walls from water, grease, and dirt. Kitchen backsplashes come in ceramic, porcelain, glass, metal, granite or quartz.
Backsplashes in glass may be personalised in any colour and come in many interesting effects or even a personal photo.
Tiles may be used, but most customers choose to have something less laborious to clean and not worry about the grout. Glass tends to be the most popular choice or alternatively the same finish on the worktop could be used.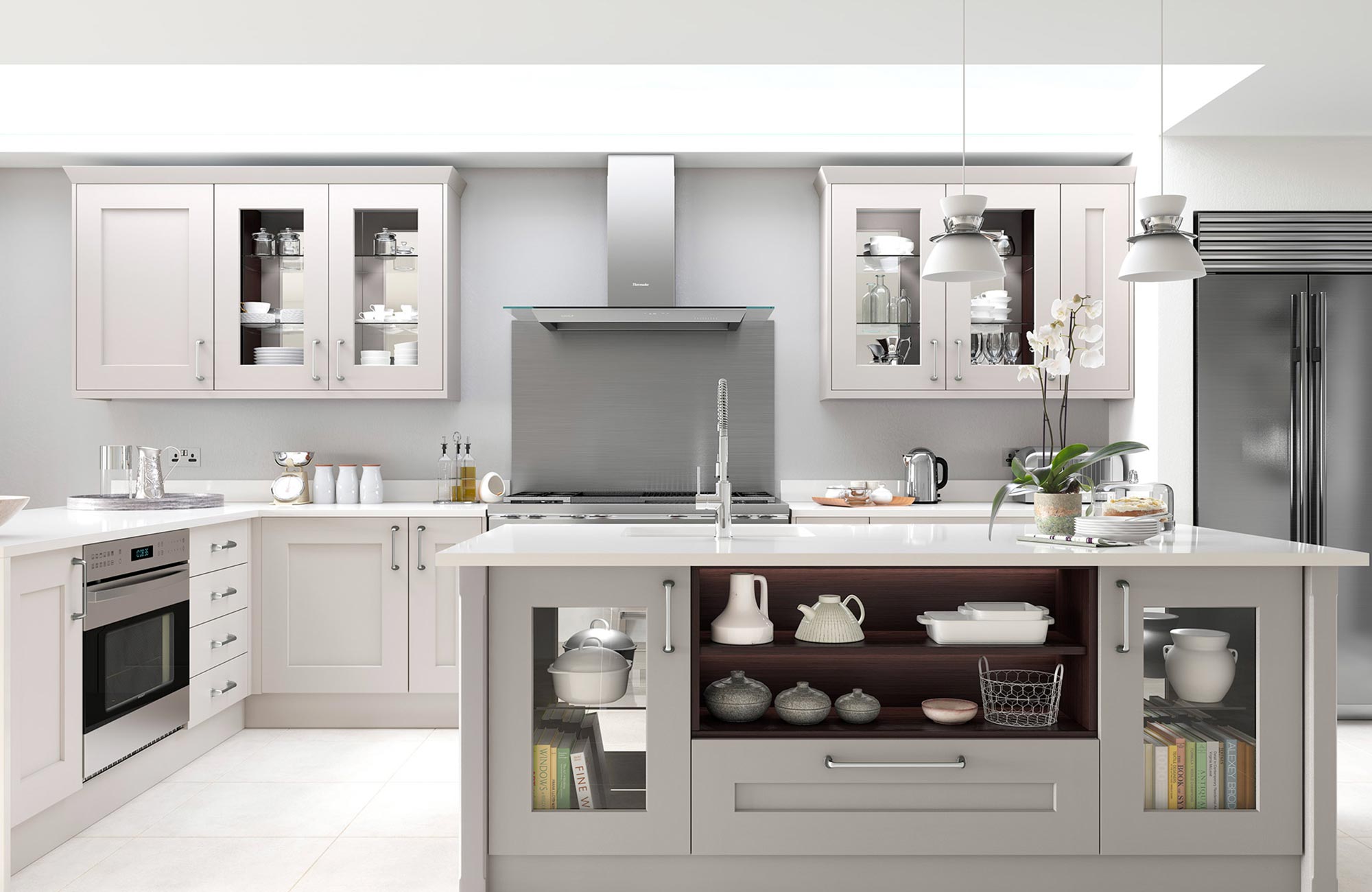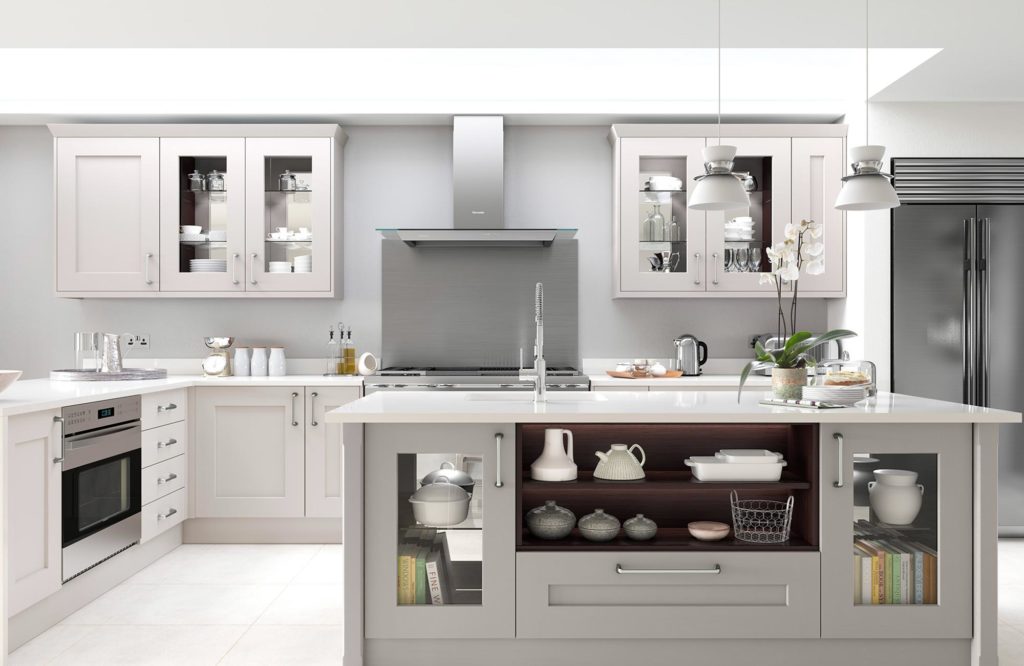 Other details for your new kitchen:
Sockets
Continuity and placement of electrical sockets in the kitchen is important and should be discussed prior to work commencing.
Wine racks
A wine rack is a great addition to any kitchen, as it can help to store and organise your wine collection. Some wine racks are designed to be installed under cabinets, while others can be freestanding.
Coolers
Coolers can either be built into the kitchen or brought in as an appliance. If you're looking for a way to keep your food and drinks cold, a kitchen cooler is a great option.
Coffee machines
To free up work surface space it is possible to have integrated coffee machines at a comfortable height.
Appliances
Yes, you may continue to use your existing equipment; nevertheless, if you're planning to start a dream kitchen makeover, we can assist you to select the most up-to-date kitchen technology that will fit exactly into the new area.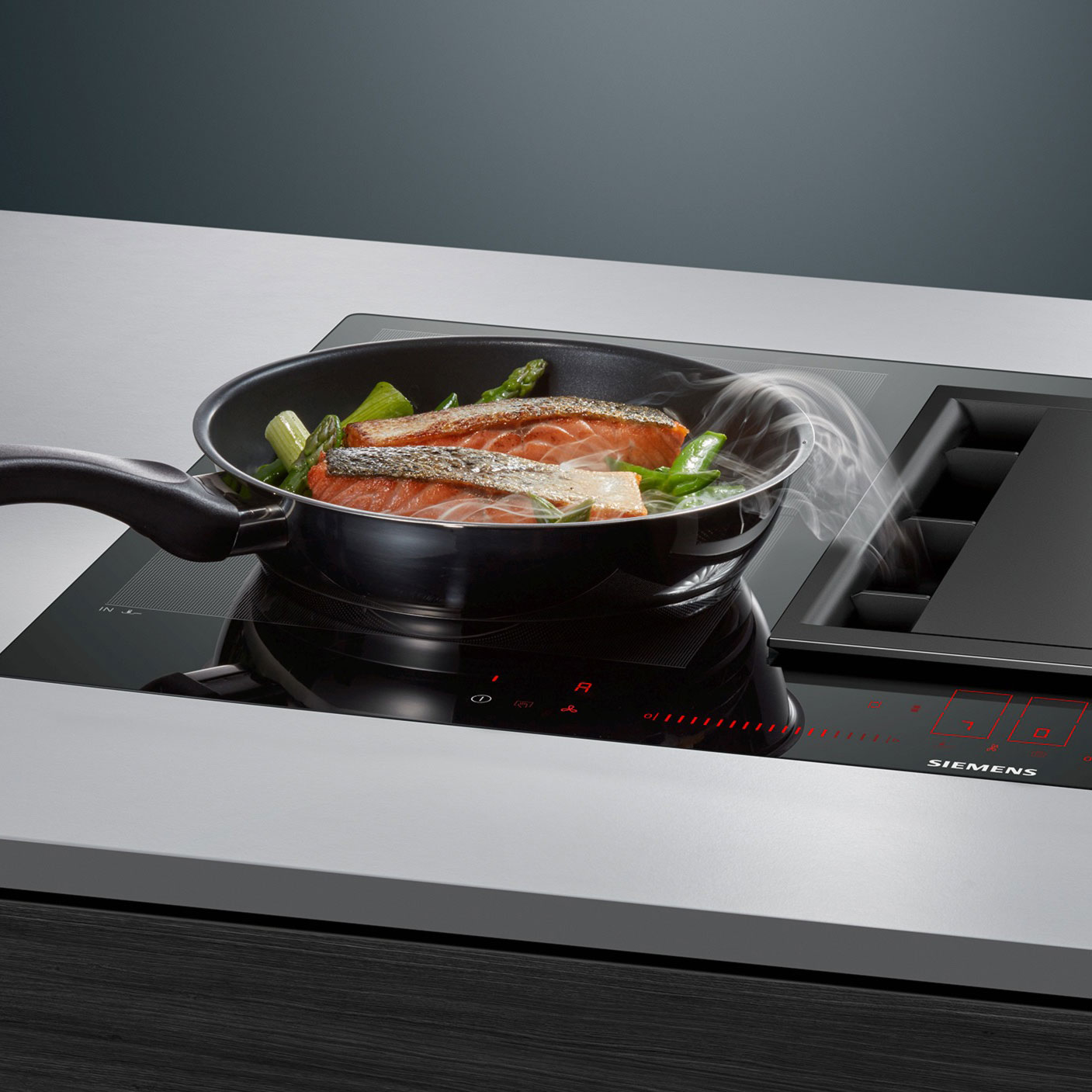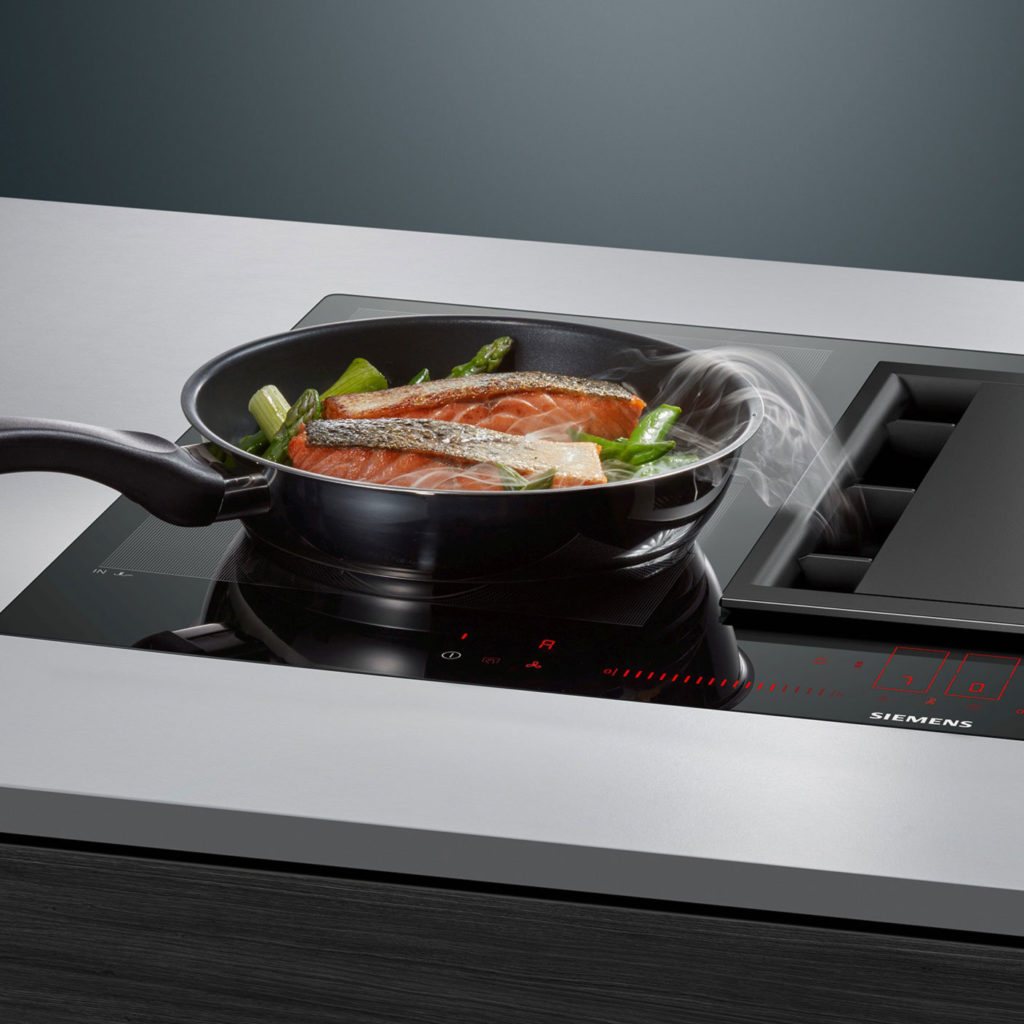 Wall space
We feel it's important to allow a space to breathe, and cabinets might be quite easy to overdo. A little wall area to hang artwork or displays on can be a nice way to bring colour/personality into the room without taking up too much floor space.
Accessories
With accessories try using colours or fabric to bring warmth to the room and soften. This is a good way to be braver with colour as it is something that can be changed later more easily.
Occasional furniture
It can work very well to use occasional furniture, which adds a bit of extra interest to the space.
Linking kitchen to garden
One of the current trends is to have a Kitchen that opens up onto the garden. This can involve large glass doors or even bi-folding doors with no step-down out to the garden.
It's our attention to detail that makes a difference
When we design a space, particularly an open-plan area, we'll build the whole kitchen in 3D and render it from many vantage points, which will provide more depth to the room and incorporate any of these sorts of features inside this blog. It helps our customers get a better sense of the place and how it may feel.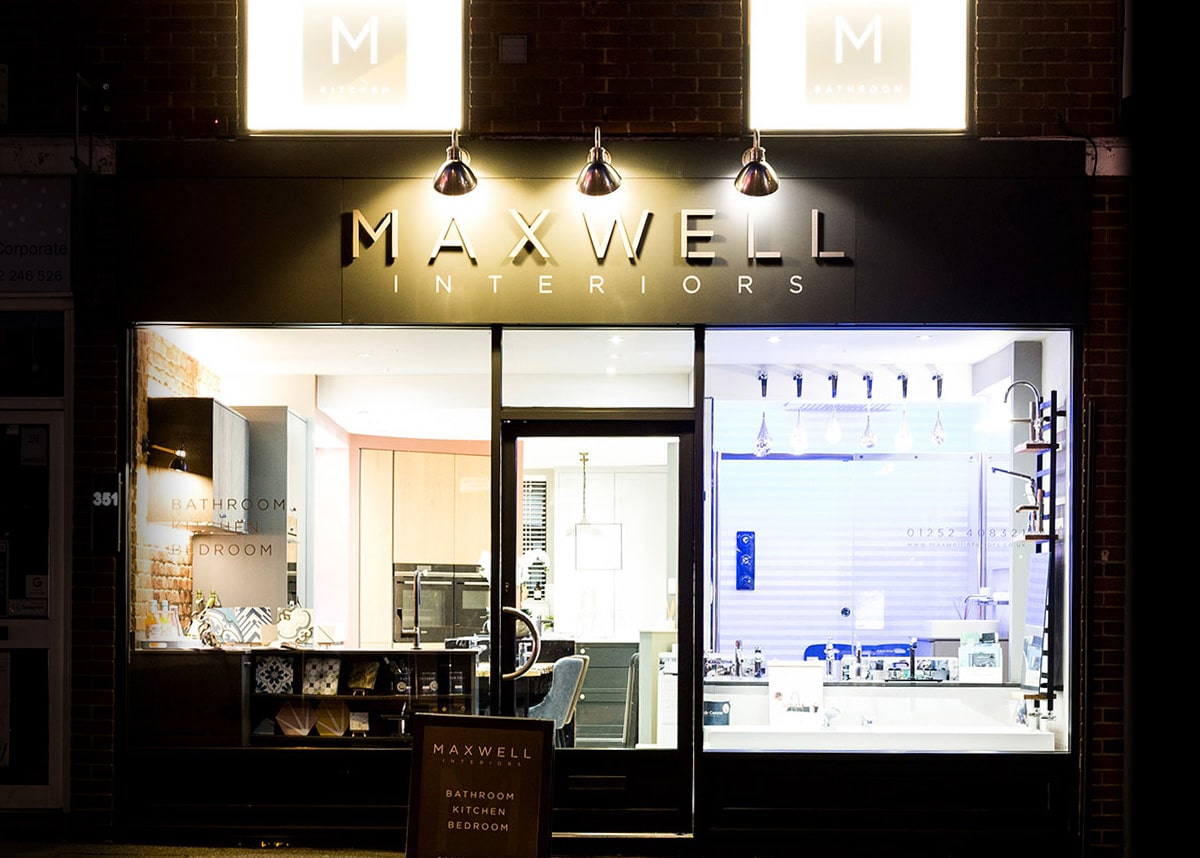 The Maxwell Interiors Kitchen Design Process
Our process for designing your dream kitchen is simple…
1/ Inspiration
Take inspiration from our broad portfolio of designs and look around online for ideas. We can show you styles in our studio in Fleet.
2/ Initial Consultation
Our first meeting is our initial consultation, during which we'll discuss your needs in person. We recommend bringing plans and photographs for this meeting. During this meeting we will be able to give you advice and our opinion on the space and quite often we notice something that could have been overlooked and we can provide an alternate solution to obtain a much better final result.
3/ Start Design Process
After we've gathered all the information we need and if you are ready to commission us to start the design process we can then commence with our creative phase. This normally takes a couple of weeks. Starting with pencil and paper we start to sketch out ideas to get the initial direction and then we move onto the computer. Using the latest design software for accuracy we can start to build the architectural framework required and then the furniture arrangement in 3D.
4/ Design Presentation
Once the design/designs are completed, we'll invite you back to our studio to present the plans and answer any questions you may have. We want to make sure you're happy with every aspect of the design before moving forward. The 3D visualisations we will produce is key to understanding how your new kitchen will look and feel. We'll work with you to create a virtual model of your kitchen, complete with all the features and finishes you desire.
5/ Design Evaluation and Amendments
After the design presentation, we'll make any necessary changes to the design based on your feedback. This step is crucial to ensure that you're getting exactly what you want from your new kitchen.
6/ Project order process
Once the design is finalised, we can then look to discussing timescales for the project and how much involvement you want from us as we offer supply only and supply and install services. We can also manage all the preparation and trades work if desired. Once dates are agreed we can then start the process of ordering all the materials and appliances necessary for your new kitchen.
7/ Installation
Our team of employed skilled tradesmen will install your new kitchen to the highest standard, making sure everything is perfect before they leave.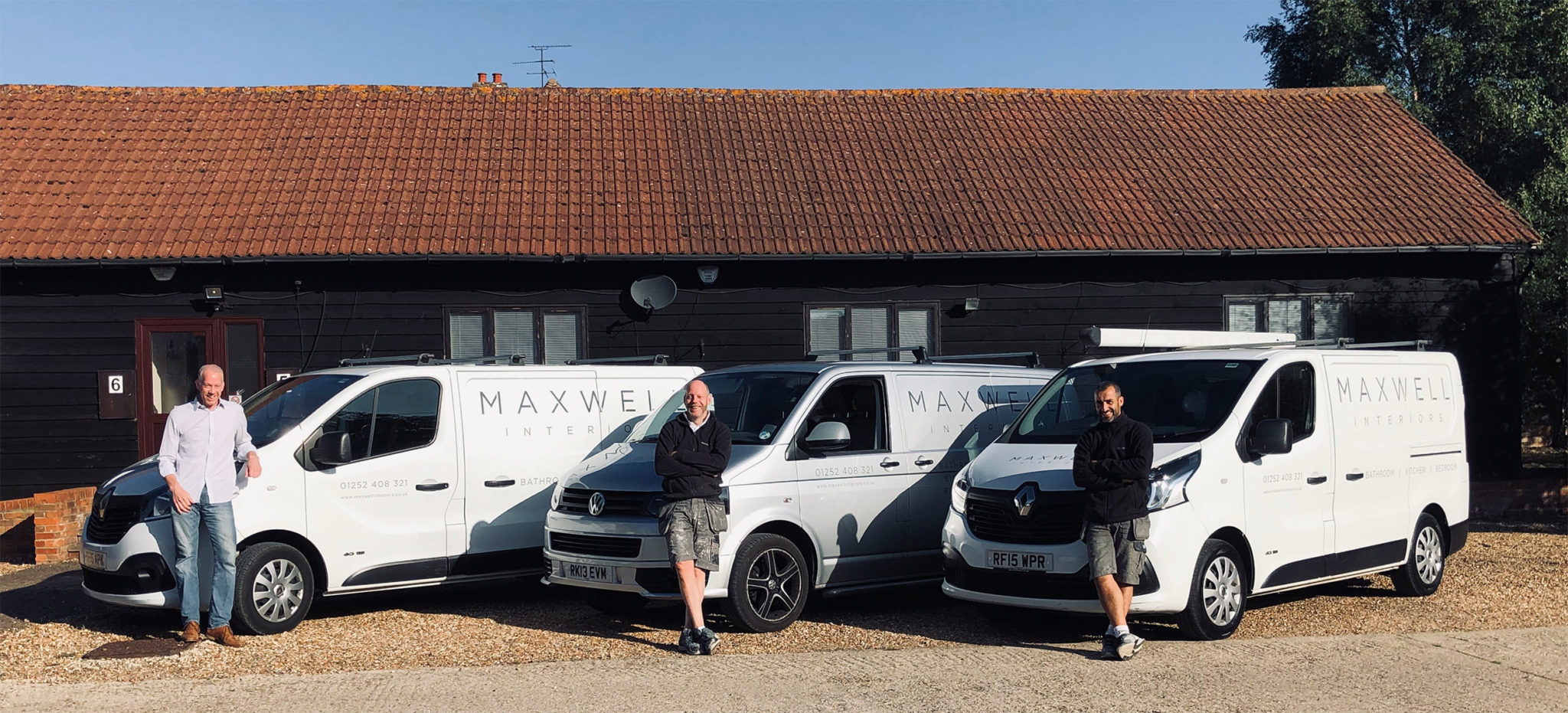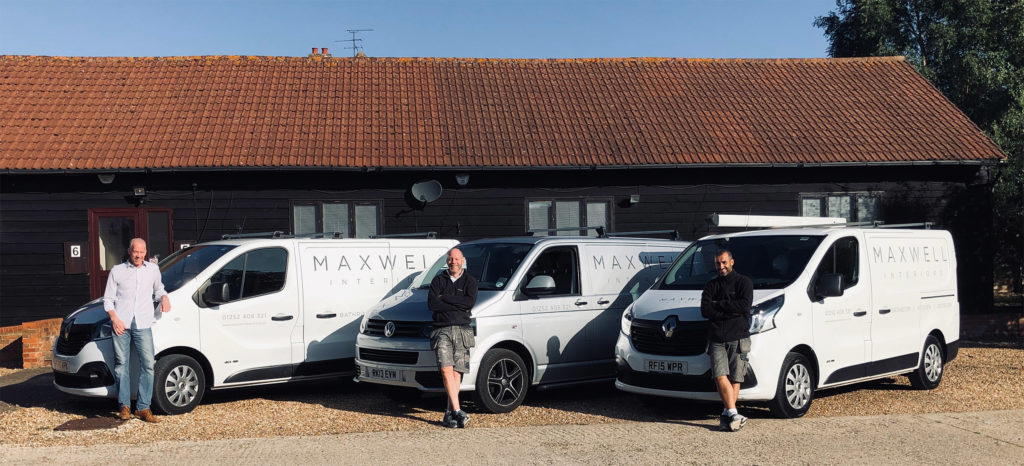 8/ Sign off
The final step is sign-off, during which you'll check over everything and let us know if there are any issues. Once you're happy, we'll consider the project complete!
9/ Aftersales service
We offer an aftersales service to all our customers in case anything goes wrong or you have any questions about your new kitchen. We want to make sure you're happy with your investment for years to come!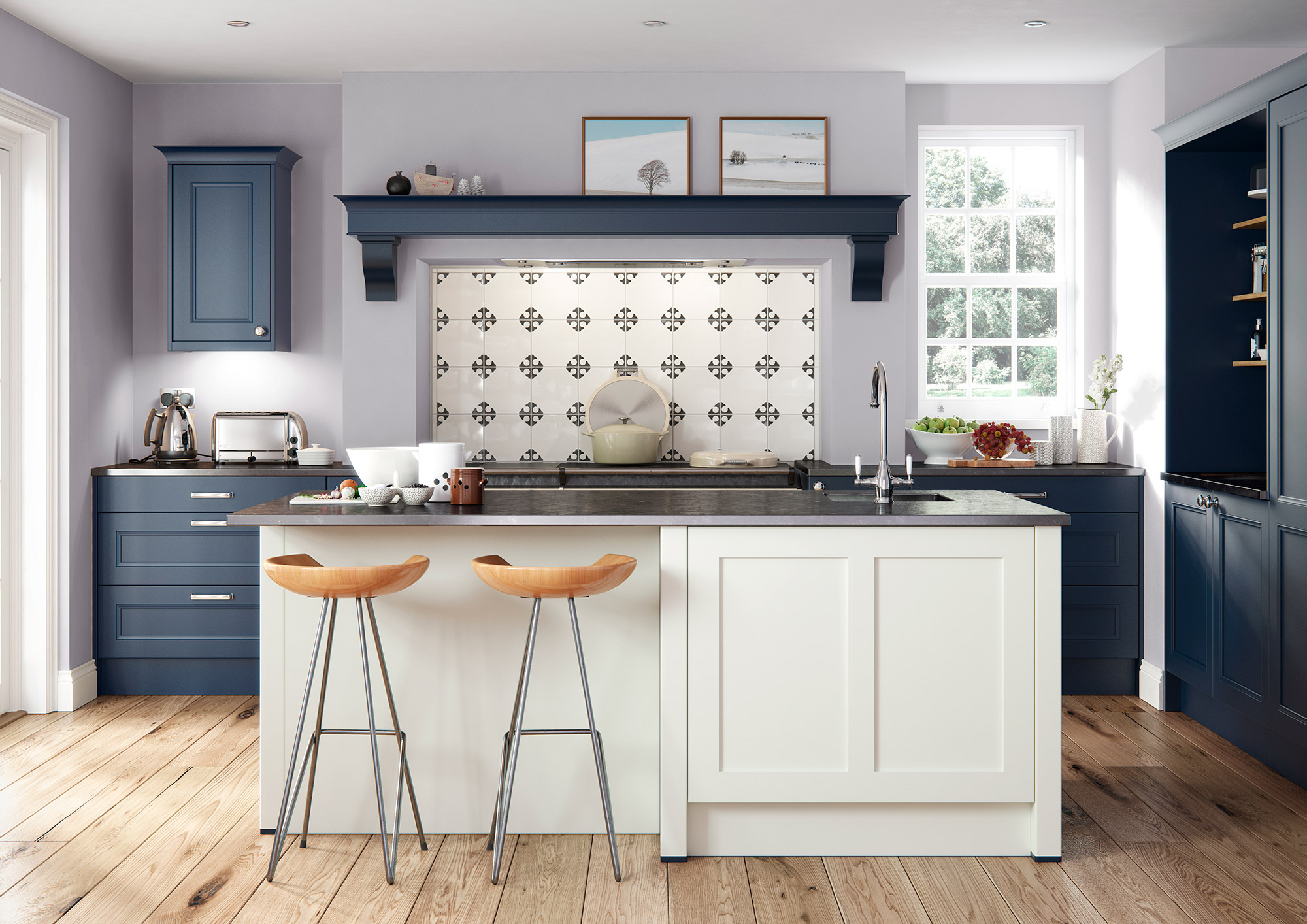 Conclusion
Kitchen design can be a daunting task, but with a little creativity and planning, you can create the kitchen of your dreams. These kitchen design ideas will help get you started on the right track.
If you're ready to get started, book a visit to our studio today, or check out our Kitchen Design FAQ for more answers.